Surrendering the ego...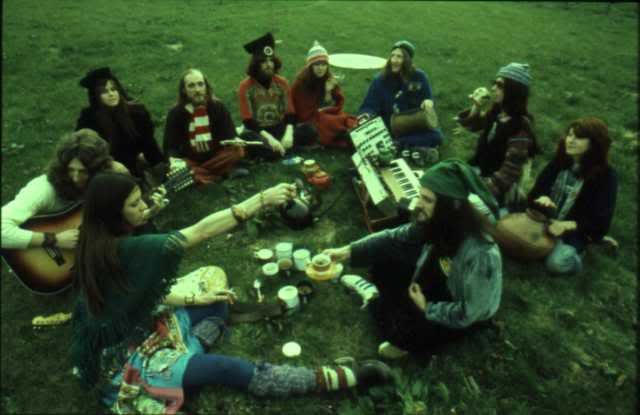 To be truthful, the idea of living and functioning in a commune or collective has always been kind of frightfully attractive to me. The model has been very fruitful for others, and assuming that I would take the Warhol position in some enviably creative ex-pat multi-media ensemble in Berlin or Prague or Barcelona or Tokyo, one would think that after a short period of momentum building, my slack shouldered and haute couture clad clan of conceptualists would rule the world before eventually tearing apart at the seams and dissolving into a self destructive and deceitful mess of has-beenery.
Oh yes, dear reader, I dare dream that big!
Amon Duul II is one of my favorite examples of the "whole is greater than the sum of it's parts" bit. Except for Renate Knaup, whose parts were pretty great on their own, if I may be so bold. AD2's dancing lemmings get me in the mood for communism even on my most selfish days.
The Galaxies' Incredibly Sensual Transmission Field of the Tower Recordings updates The Holy Modal approach and adds a dizzying lack of focus that will have you seeking the safety and comfort of others before you can say "Hare Krishna".
When the tribe of Telepathe head into the forests of Brooklyn, they plug in the campfire and pluck fx from feedback trees for their chant-a-longs. This EP is out now on The Social Registry. Rich's 30th is coming up and buying some music from his label is like buying him cake, (or paying his rent, depending on how you look at things).
http://rapidshare.de/files/16092139/Tanz_Der_Lemminge.zip.html
http://rapidshare.de/files/16106714/GISTFTowRec.zip.html
http://rapidshare.de/files/16107276/TeleFF.zip.html
THANKS to all of you for checking out this page. Your comments and compliments have been very encouraging. Special thanks to SAPIEN for Corky's Debt. Look closely, kids.